BUSINESS AS UNUSUAL
In May 2018 I wrote a Berggren blog about my four hectic days at the INTA Annual Meeting in Seattle. This year, of course, like all conferences around the world, INTA went virtual ("INTA Virtual"). In addition, for the very first time the Annual Meeting and the Leadership Meeting were merged into one 10-day event. Both meetings, their educational sessions, networking opportunities as well as the exhibition hall and the corporate meetings were held in virtual spaces, an example of which is shown below.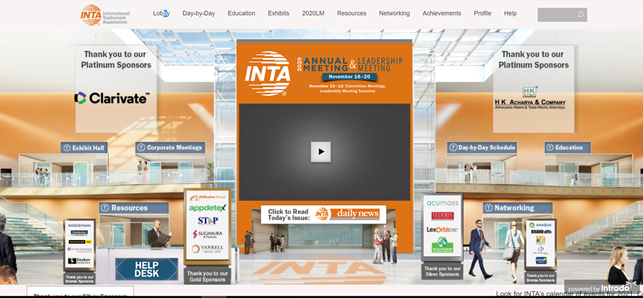 INTA Annual Meeting usually include about 10,000 attendees from all over the world, but as a result of format of INTA Virtual and likely the overall effects of Covid -19 on the business environment, the number of registrants this year was only around 3,500. Attendance from Finnish firms and companies was comparably reduced. Notwithstanding the reduced participation, my colleague, Robert Alderson, and I were pleased to have the opportunity to represent Berggren at INTA Virtual. While it appeared that many US firms and companies did not attend, we noticed that firms from India, China, and Latin America were well-represented.
As a member of the Publication Committee and the task force leader of the INTA Unfair Competition Committee, I participated in three committee meetings during the Leadership Meeting week. We also organized a few Happy Hour sessions with our teams, just to chat, drink wine and have fun together. Since INTA is a New York -based organization, the meeting times were usually in the late evening in Helsinki, but I did not mind, as it was nice to have a sip or two of wine after regular working hours.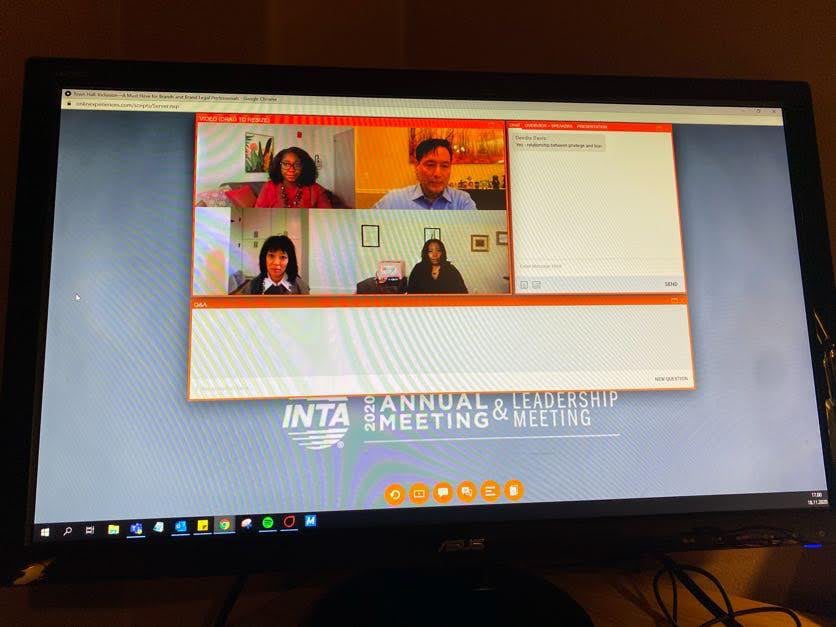 In normal years, there is hardly any time to attend educational sessions during the Annual Meeting, but as receptions and many global counsel meetings with our direct clients were not on the agenda at INTA Virtual, I found several interesting sessions to join. One of the main themes of the Annual Meeting was, of course, the situation with Covid-19. Many brand owners spoke about how they have added masks to their product portfolio and are therefore expanding their trademark registrations to classes 9 and 10. Most companies are also actively involved in helping their societies cope with Covid –19. For example, at the Ford global counsel meeting we not only saw a video about their new electric cars, but also a video showing how Ford produced millions of respirators for health care professionals in the United States. Another widely discussed topic was diversity and inclusion (D&I), which is generally believed to lead to more innovative products and services, improved employee retention, and as a result, better financial performance.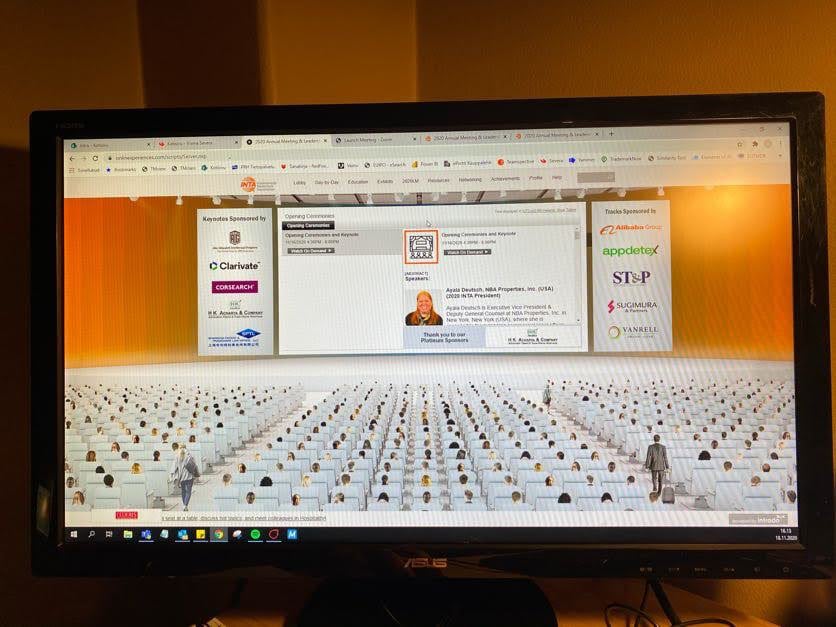 INTA Virtual also set up several great ways to connect with other attendees online. In addition to joining global counsel meetings organized by our clients Ford and MF Brands (GANT, Aigle, Lacoste), I occasionally visited the Hospitality Area, where one could sit down at virtual tables with other attendees to chat. For further social networking, INTA Virtual offered e.g., virtual Zumba classes, HIIT training and coffee-tasting sessions.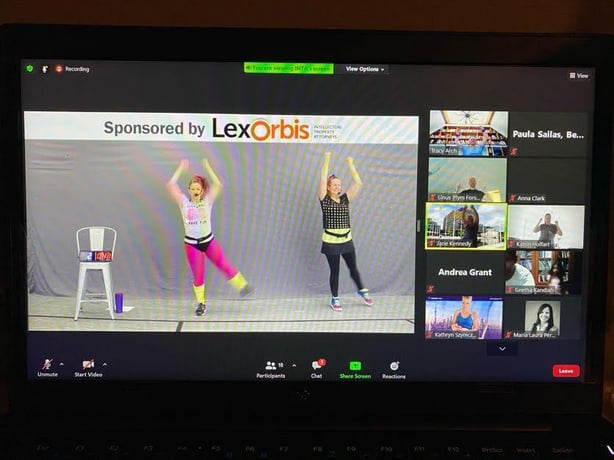 My INTA Virtual experience was supposed to end on Friday night as a moderator of a table topic. I had planned to share views about interesting design cases with 12 colleagues from around the world. Unfortunately, due to widespread confusion about time zones, I ended up sending individual messages to the participants and having a private conversation with one design expert from India in the middle of the night.
To sum up my 2020 INTA Virtual conference experience, I very much enjoyed all the Covid-19 IP-related conversations and seeing foreign colleagues' kitchens, closets or kids and cats in the background while discussing topics such as diversity and inclusion. Nevertheless, not even virtual tennis classes for a tennis enthusiast like me, can ever fully replace in-person meetings. While the INTA organization did a fantastic job this year planning INTA Virtual, I think everyone can agree that seeing each other face-to-face in the same real location is much better, even if it comes with significant jetlag.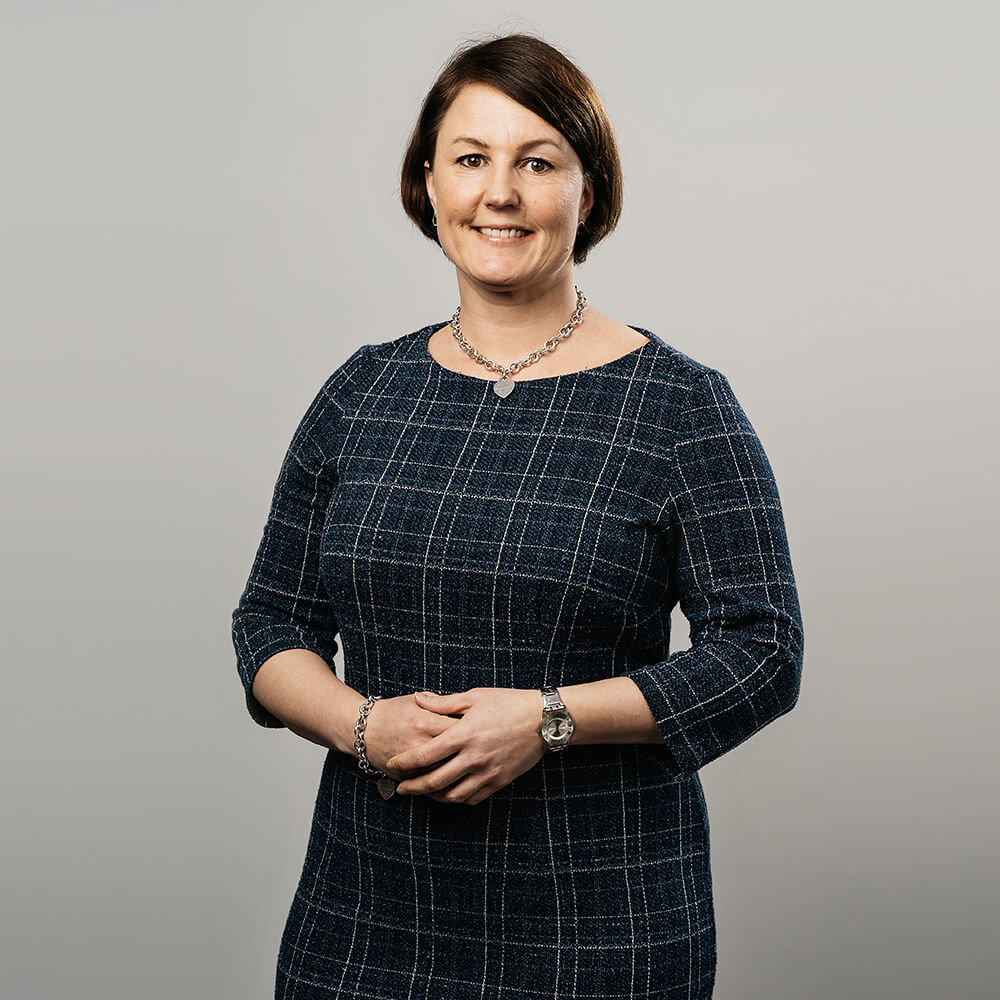 In addition to my work as a lawyer advising our clients in their contentious and non-contentious intellectual property matters including trademarks, designs and domains. I'm actively involved in IP organizations and frequently featured as an expert in related media and events in Finland and abroad. I've been involved with International organizations such as INTA and FICPI for over 10 years.