Entering into international markets in any scale is always a challenge and an opportunity to your business. There are the questions related to new markets and understanding them, dealing with potentially new competitors and existing competitors. There may also be new applicable legislations that needs to be understood and require compliance as well as existing intellectual property rights (IP or IPR) of third parties impacting your own freedom to operate in comparison to your home country or other markets that you are already familiar with. Prospering on new markets requires some background work. Securing your IPR and understanding legal requirements together with managing risks related to them is one aspect that should always be considered.
Threats and opportunities
A revolutionary product or a killer trademark may rapidly gain extended market coverage in the social media era. Thus, even small companies may fast become market leaders because of the rapid changes in consumer behaviour. This creates threats and opportunities. Rapid overtake of the market or creation of an entirely new market can provoke the competitors to assume an aggressive approach. If the IPR of the small company is not fit, the competitors can easily challenge the dominance. On the other hand, if the IPR is secured, attention may even enable licencing opportunities and faster expansion of business. It must be emphasised that licensing requires at least a good state of intellectual property rights.
Patent smartly
Patent gives its owner an exclusive right to prevent others to make, use, or sell a new invention for a limited period of time on the applied geographically limited region. This means that the invention needs to be patented in all the countries or areas you need a right to prevent others from using it. In order to limit the increasing costs of global patenting, it is recommended that the strategic decisions are made in the earliest possible time point to define the desired markets. These selected markets should often include at least the countries or areas of research and development, manufacture and potential competition. Such decisions bring leverage to the market entry. Of course, if the cost structure of the company allows broader patenting, patenting globally or in several additional countries or areas will secure future development and widening of the markets.
Protect your brand
Trademarks are the tool to protect brand, and the product or service brand is something that often lives long after other forms of IP, such as patents, have expired. In short, trademarks are recognizable elements of products or services that distinguish them from other products and services on the market. Remember that trademarks are geographically limited so it is important to seek trademark protection on the relevant markets. A good trademark is both distinctive by nature (it does not describe the products or services it represents) and not confusingly similar to earlier trademarks on the same market that concern same or similar products or services. It also is important to verify that the brand names are not inappropriate or carry an inappropriate connotation on the market languages. The essence of trademarks lies in the definition of goods and services that the mark should protect and ensuring that it is both precise and broad enough at the same time. Early protection of your trademark(s) in key markets often pays off and ensures that you maintain your rights to the brand chosen.
Time and money
Investments in IP are often a critical question. In general, they have to be scaled according to the intended role of patents or trademarks or other IP in the firm's business. A small firm which manufactures and sells its own products normally needs a primarily satisfactory IP portfolio, naturally depending on the field of business. The initial costs for patenting may seem to be relatively high but can be managed with good planning and understanding the long-term impacts. There are also limitations in terms of timeline when and what can be done especially in relation to patenting even if you have already started the patenting process. You should be aware of these issues and make the necessary provisions for them in the strategy of the firm. You should also really believe in the invention and its potential to make the costs seem reasonable.
Know your competitors
Unfortunately, it is not enough to have and know your own IPR. You should also continuously monitor the relevant markets and competition. As described above, this is important for limiting the possibility that competitors freely enter your market. In addition, monitoring the competition is vital for securing the freedom to operate. When entering a new geographical region, there may already be existing IPR that prevents your company from fully entering the market. Acknowledging this may involve changes in market selection or amendments to your innovation such that you can circumvent the existing competitor patents.
Basics to remember
Keep in mind at least these
Agreements and NDAs with distributors and collaborators
Trademarks for essential products and services and securing domain names to together with the trademarks at least on your key markets
Extending the patent protection using the Paris Convention principles within available time limits
Finally, do remember that if you utilize data, or process personal, also ensure that your agreements data and implementation of personal data processing requirements are in order.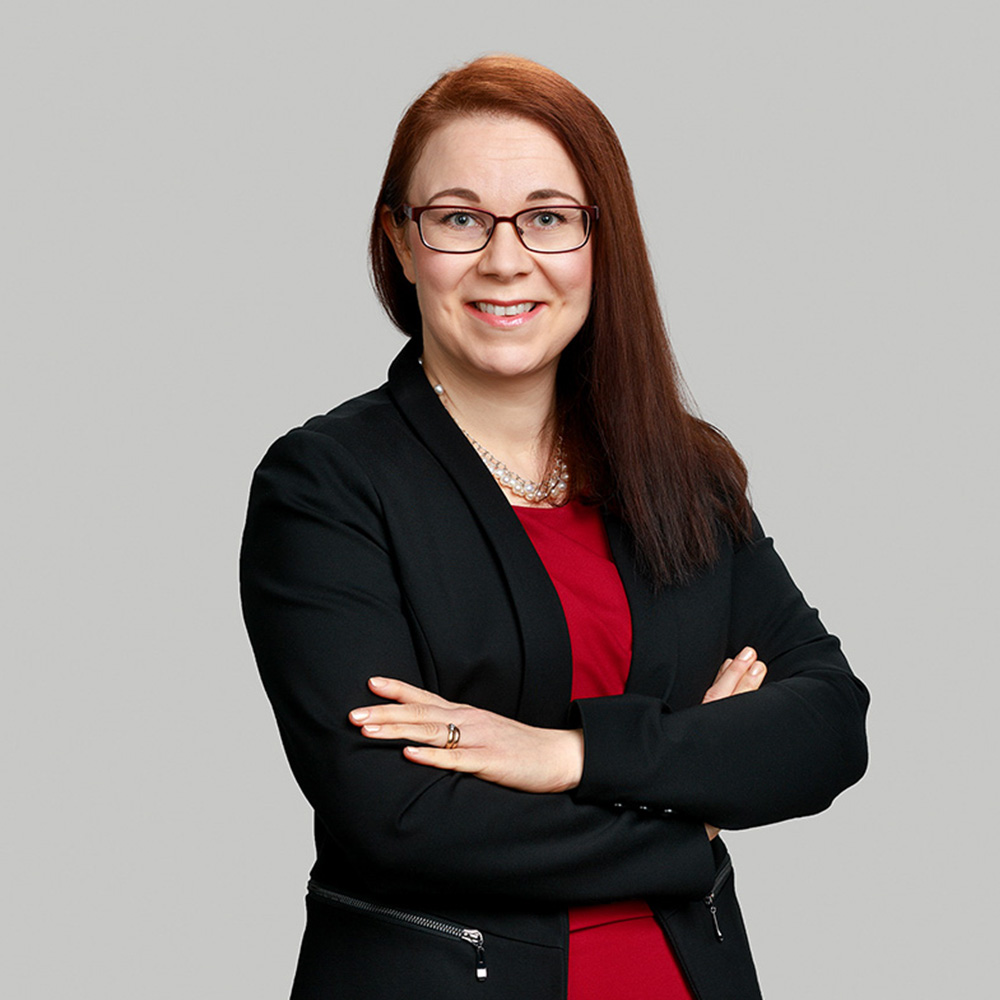 Suvi Julin works in Berggren as a Lawyer, Patent Attorney, European Trademark and Design Attorney. Suvi has wide-ranging experience in the field of intellectual property and technology law. Suvi advises clients on a variety of contentious and non-contentious intellectual property matters including trademarks, designs and patents as well as in copyright, contractual, employee invention and privacy matters.